Today is Veterans Day, it has always been a very important day in my family because my father is a Vietnam veteran. That's why I wanted to showcase a designer that has incorporated the military look into their Spring 2009 collection.
I know, I know you are probably thinking wasn't the whole Military look so two years ago. Yes I remember and still have many items from 2006 when the military look was rampant. But when I saw this Balmin jacket I was ready to dig them out of my closet and work it.
Balmin, the french label has been in the state of renovation since Christophe Decarnin took over in 2005 and it looks as if he is also set to revamp the military jacket as well.
At Paris Fashion week he adorned the runway with military inspired tuxedo jackets embellished with studs and crystals.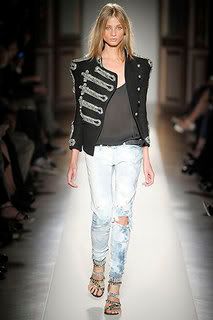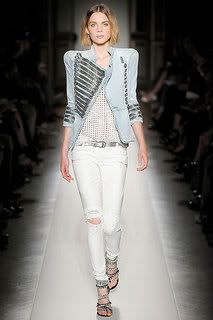 It's a completely inspired collection as a whole and I am excited to see what else Decarnin will continue to do with the label.
So before you clear out your closet and throw out anything military inspired I suggest holding onto it a little longer. Come this spring I have a feeling we will be seeing the military jacket make a reappearance,thanks to Balmin.