I had the pleasure of speaking with
Monika Desai
,
CEO of Sole Envie,
about her technology driven start up company that will no doubt change the way that women shop for shoes. In this interview she answers some questions regarding her personal style, her company and what keeps her motivated day to day.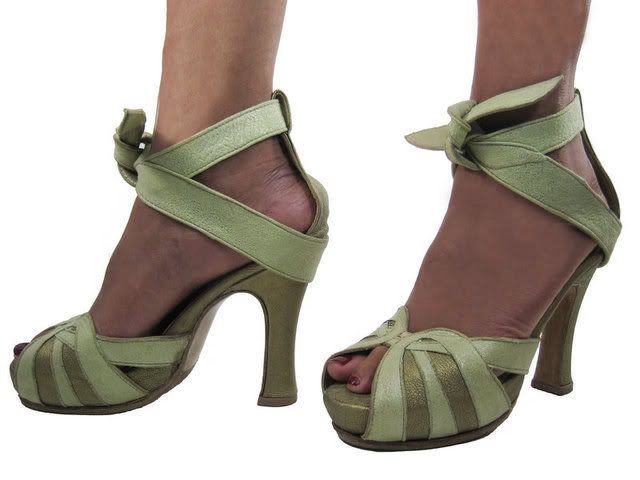 A self-motivated woman, who is starting her own online shoe customization company is awesome and inspiring. Tell us a little about yourself and your personal style.
I was born in Woodstock, NY and was fortunate to spend many years living in Europe while growing up, and to spend summers in India. Being exposed to European trends and being able to design my own clothes and jewelry in India infused me with a passion for fashion. Those experiences contributed to my personal style, which is unique and distinctive.
I like clothes with interesting details paired with eye catching and unique accessories -- whether it be an intricate filigree necklace I found on a trip to India or an unusual hair-on purse I had custom-made in Mexico. I don't pay too much attention to designer labels and instead go for things that look good on me and will last more than one season. For me it's about showcasing my individuality and I think shoes are a great way to do that. Unfortunately, because of my small size 4 feet it's always been impossible to find shoes in my size so I've never had the opportunity to express my style with my shoes. This was one of the motivators that led me to start Sole Envie.
Also, I have a business degree and 13 years of experience in marketing, both in print and online, so I really keep up with new technologies and online trends. I love the idea of combining technology and fashion, and that's really what the concept behind Sole Envie is all about. It's not just a shoe company – it's a technology driven fashion company where the experience of designing and sharing brings as much fun and pleasure as actually receiving the shoes.
I love the idea of being able to customize a pair of shoes. I know your passion for it comes from a personal place, but what exactly motivated you to make it into a career move?
I've always wanted to be an entrepreneur and I think that started when I was a kid and was living in Europe. Whenever my dad came back from business trips to the States he would bring back boxes of my favorite candy, which I would promptly turn around and sell to my American school classmates at a 100% mark-up instead of eating them myself! I kept the idea of starting my own business in the back of my mind and then a few years ago when I was having a pair of custom shoes made for my wedding I got the idea for Sole Envie. I really enjoyed the experience of designing my own shoe - choosing my style and materials and seeing my design come to life. The light went on that this would be a great idea for a business. I did some research and discovered that no other companies were offering custom shoes and for good reason - it's not the easiest business to get off the ground. I didn't come from a footwear background so I took some shoemaking classes, started networking, connected with some key people in the space and got to work. 9 months later I had developed my first collection, put on a fashion show and was invited to speak at a mass customization conference at MIT. Since then I've been working on setting up the manufacturing side of Sole Envie.
I know that right now you are just in the process of getting your company up and running, so what keeps you motivated day to day?
Passion. I really love what I'm doing and completely believe in Sole Envie and its vision. While I'm always focused on the big picture, reaching small milestones is also a great motivator. Nothing feels better than crossing something off your to-do list. Talking to people - whether it's a future customer or someone I meet through networking always leaves me feeling re-invigorated. Nothing beats hearing someone tell me they love the concept and can't wait to start designing their own pair of shoes. And finally, my husband Eric - who is also Sole Envie's CTO. Eric has been the greatest supporter and helps keep me focused. I couldn't do this without him.
You expressed in wanting your online shoe factory to be more than just a shoe store but a community. Why and how would you go about doing that?
Shopping for women is a very social experience. We want customers to not only be able to design their own shoes, but have a place to share them with their friends and other fashion enthusiasts. Who doesn't love creating something new and getting compliments from their friends? At Sole Envie customers will be able to rate and comment on each other's shoe designs, participate in shoe design contests, and have a say on new product offerings. We're also making it easy for them to share and monetize their designs on other social networks such as Facebook and StyleHive. We think we'll be able to build a loyal following and strong brand by engaging and listening to our community.
So if I was to go to your site and created my own shoe, how long would it take to actually get it in the mail and how much am I looking at spending?
It only takes 3 weeks for your custom shoes to be delivered to your door. We want to make customized shoes accessible to women and our pricing reflects that. Our customizable shoe collection will include sandals, pumps and boots and will range in price between $80 and $400 dollars.
What types of options, fabrics, textures will be available on your site?
At Sole Envie you'll be able to mix and match a wide assortment of heels, leathers, fabrics and trims to design your perfect pair of shoes.
One thing we hear a lot from women is they find a great looking shoe that goes perfectly with a dress they have, but maybe the heel it too high or too low or they'd prefer a wedge instead of a stiletto. At Sole Envie you'll be able to choose both your heel height and your heel type. As for leathers and fabrics, our goal is to offer something for everyone whether it's a basic color to match a new outfit or something unique and special. To that end we'll be offering a wide array of colors and materials - suede, metallics, kidskin to name a few, as well as some silks and printed fabrics. Finally for that special finishing touch, you'll be able to choose from an assortment of trims and accessories - from Swarovski crystal buckles to ruffled trims. You'll be amazed at how an accessory or trim can create an entirely new look.
Do you think the world is ready for designing their own shoes? People do love their brand names.
Absolutely! I think there is a shift happening in fashion. People are looking for ways to express their unique sense of style. They want products that reflect their tastes, personality and lifestyle. What better way to do that than through customization? You see the customization trend everywhere from computers and t-shirts, to athletic shoes and even teddy bears. Why not shoes which are such emotional products for women?
Who would be interested in customizing their shoes and how are you targeting that woman?
Sole Envie will attract women who are looking for shoes that reflect their personal flair, looking to fill a particular need (such as matching an outfit), or who just want to be experiment and play at being a shoe designer. As far as targeting them, we'll be using a variety of online (ex. Facebook, style blogs, social shopping sites to name a few) and offline (ex. shoe parties and magazines) strategies. A great starting point will be through the Hello Stiletto Shoe Club, a nationwide social network of shoe lovers that get together at different venues a few times a month to meet other shoe lovers.
Now that we are all excited about the prospect of creating our own shoes, when do you see your company launching?
Our goal is to launch our website later this year. In the meantime, we are very excited to be introducing Sole Envie offline with Sole Envie-hosted shoe parties within the next couple months.
Is there a newsletter or a way to keep updated on Sole Envie?
As a matter of fact we're just getting ready to send our first newsletter this week! You can join here. ( http://www.soleenvie.com/news). You can also keep updated by reading my blog (http://www.soleenvie.com/monika)
Is there anything you would like to say to people who are looking into starting their own company, any words of advice?
Disclosure: I don't always follow my own advice, but here are a few tips that I try to put into practice:
1) Passion. You need to have a vision and keep your eye on the big picture. At the end of the day this is what's going to keep you going when things get tough.
2) Trust your instincts. Believe in yourself and treat mistakes as learning experiences. I struggle with this one everyday. I want everything to be perfect from the beginning and that sometimes causes me to end up with analysis paralysis.
3) Be flexible. Be open to making changes to your vision. Most likely your business will end up being a lot different than what you initially envisioned and that's o.k. You need to be able to roll with it.
4) Seek advice. Get a mentor who knows your industry and is willing to invest time with you and guide you. This will go a long way and could open a lot of doors for you.
5) Don't operate in a tunnel. Talk to as many people in the industry and across various disciplines as you can even if they just don't get it (and trust me you will come across a lot of people like that and it'll irk you to no end). It's painful but you need to learn to listen to stuff you don't want to hear. Let people poke holes. If nothing else it'll make your future pitches that much stronger because chances are if one person is questioning you about something, others will too. As an entrepreneur you should expect to spend a lot of time "selling" your business whether it's to manufacturers, suppliers, investors or customers.
6) Get structured. Formalize your company as soon as possible. Choose a business entity, form a board, spell out ownership and job responsibilities. This will help establish in your mind as well as others that you are a "real" company. There are also potential tax benefits to forming an entity as soon as possible.
7) Network, network, network and make sure you follow up with everyone you network with. You can't do too much of this. I couldn't have gotten this far without help from all the people I've met along the way. You'll be surprised how many people are willing to go out of their way to help you.
8) Be resourceful. If you are self-funded and looking for capital (like Sole Envie is right now) you may not have the money to pay for legal fees, employees, marketers, etc. That shouldn't stop you from pursuing your goals. See if your lawyer is willing to defer fees till you get funding or revenue, hire an intern, trade services, or look for people willing to work for sweat equity. It takes effort to find people, but it can be done.
Thank you so much for your time.
My Pleasure!