Jordana of
Clutch22
is the first Snapshot Interview in a new feature on my blog. I will be asking some fun, but informative questions, so that not only do I learn more about some of my favorite people, but you can as well.
Name:
Jordana Bruner

Job:
Public Relations
Dream Job: Work for myself
City of residence:

Seattle
1)Three words and three words only describe your style?
abstract, unpolished, expressive
2)If all of your clothes were burning which item would you save first?
Probably my black Report buckle boots - they're from over two years ago and nowhere to be found in stores!
3)What's your favorite lyric from any song.. EVER?
Creator by Santogold "

The rules I break got me a place on the radar.

"
4)What's the last item of clothing that you bought?
Black razor tank from Target
5)What store can you not help yourself from going in?
American Apparel, I feel like there's always going to be something I can justify "needing" from there.
6)If you could go to any city in the world to shop,where would you go and why?
Sydney

- There are so many cool up and coming designers in Australia. I feel like I'd have a lot to discover there as far as shopping and fashion go
.
7)What fashion extraordinaire do you admire (I am a given, so someone besides me but if you would like to say me that's fine too) and what fashion self proclaimed extraordinaire makes you go WTF?
I admire so many, but here are a few that I've gotten to know more about that I look up to:
-

Jennine Tamm

of The Coveted/IFB (she's done so much to help enable other bloggers)
-

Crosby Noricks

of PR Couture (she's the queen of fashion PR)
-

Sara Seumae

of SPUN (left accounting job at Merril Lynch to pursue her passion and launch her own label)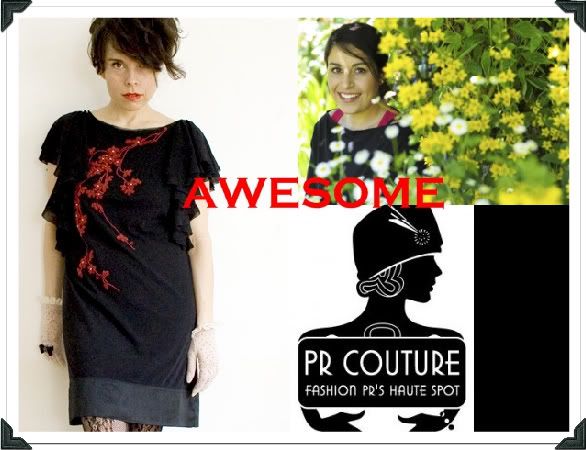 Lady Gaga makes me go WTF, but in a good way! :)
8)Where do you go to find inspiration besides www. alixrose.com?
Craft stores, Flickr, the Fashion Spot, various online boutiques, other bloggers
9)Thank you for Taking the time to do this! Any last words?
"

In order to be irreplaceable, one must always be different

." Coco Chanel