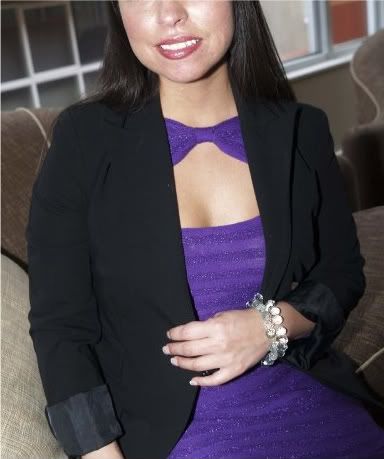 Sometimes the best outfits are the unplanned ones. On this day, I had been struggling with what to wear. I had packed a plethora of items and headed over to
Clutch22's
apartment. This is why I like getting ready with a friend, the items in your closet are old to you, but a friend has fresh eyes and sometimes great ideas. I had tried this dress on and when Jordana looked at it she told me to wear it backwards... GOLD!
The open back was being wasted because my long hair would just cover it, what better way to show off the reason I bought the dress than to turn it around.
I borrowed her blazer, added black tights and BAM I had an outfit that I felt good in.
The best part is that it looks like I am wearing a bow tie. Is someone channeling Chuck Bass? He is my favorite character.
Moral to the story:
This Friday, pack a bag of your favorite clothes, head over to a friends house, play dress up and inspire each other. Not only will it be tons of fun, but you will most definitely come away with an outfit you will be excited to wear.
Note: Eyes are cut off because bangs/fringe still looks weird, thank goodness its grown out by now! Also its the start of my bday weekend, I hope your weekend is as fabulous as mine!
source:
summer photography