You may know Wendy Brandes, her amazing
jewelry
, her humorous and very informative
blog
(if you haven't seen it I totally recc'd it) but you've never seen her this way.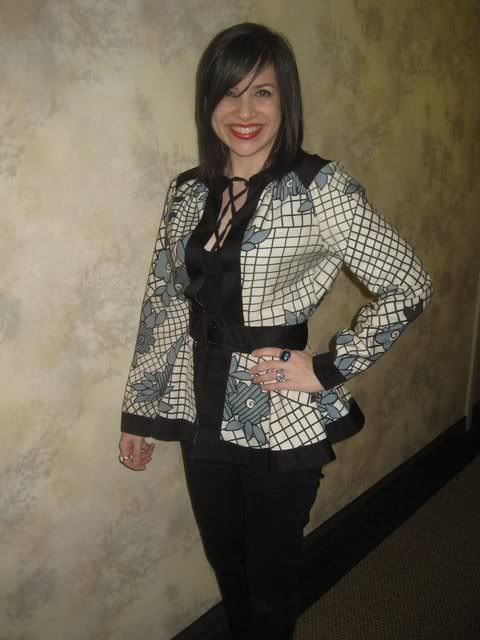 BREAK IT DOWN GIRL!
Name:
Wendy Brandes
Job:
Jewelry Designer
Dream Job:
Benevolent Dictator of the Universe
City of residence:
New York
1)Three words and three words only describe your style?
I never know how to answer questions about my own style, so I decided to ask an expert. Fashion designer Zang Toi says, by email, that I'm "Glamorous & Stunningly Sexy." I hope the ampersand doesn't put him over the limit.
2) The first time I saw your jewelry my jaw dropped, seriously. Every piece seems like it has a story. What item on the site is your favorite and why?
I know impossible to pin point. I ask the hard questions.

My Marie Antoinette Ring really illustrates my feelings about its namesake. It's in the royal colors of purple (amethyst) and green (tsavorite), and the prongs are fierce and thorn-like. Louis XIV established the excesses of Versailles. Marie Antoinette stepped into a situation that was already out of control. The ring is all about danger.
3) Your line is self titled, but let's say your name was taken. What are some other options would you have used?
I actually did start designing under another name: Gigi Caron. Gigi was for my dog and Caron was the first name of my business partner. We liked the way the name reminded us of Leslie Caron's star turn in the movie Gigi. There's a great line in that movie:
"Wait for the first class jewels, Gigi. Hold on to your ideals."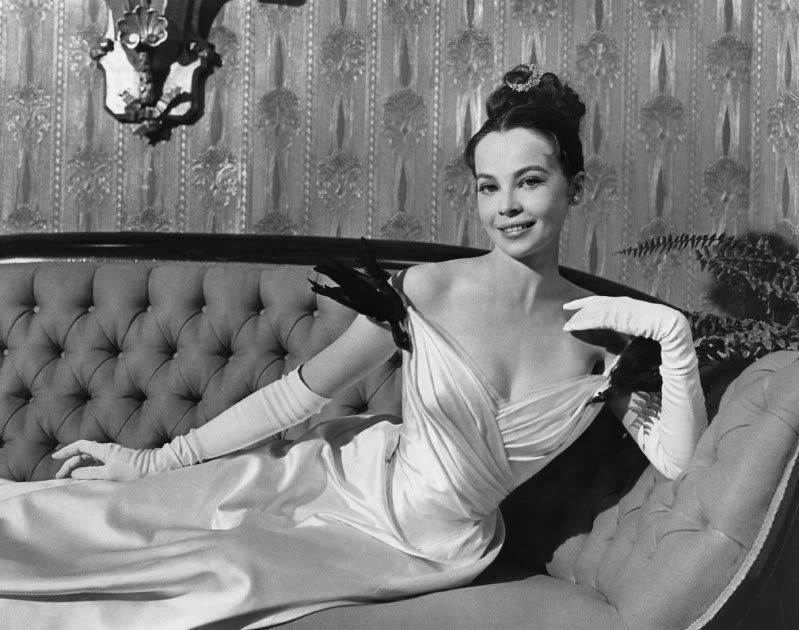 4) I picture you working over a big desk making beautiful pieces of jewelry, but then I also picture you doing stand up, you do make me laugh. So where do you do most of your work during the day and what do you do for fun, when the work clock has stopped?
If I'm on my laptop, as I am a lot of the time, I'm most likely lying in bed. Then when the day is done and I want to have some fun ... I stay in bed!
5) I have a feeling that you weren't really a barbie girl, since your jewelry is modeled after really strong real women. I honestly would love to learn more, I really wish I would have paid more attention in history class, so I could shoot the facts with you. So who do you recc'd I read about, any books?
You're right about Barbie. I used to play with plastic dinosaurs. My favorite medieval history book is A Distant Mirror by Barbara Tuchman. It's about the 14th century but it puts current events in perspective. If you want to read about interesting women, start with The Wives of Henry VIII by Antonia Fraser.
6)What's your favorite lyric from any song.. EVER?
"Ever"?! You're strict! I'll go with: "Keep you doped with religion and sex and TV/And you think you're so clever and classless and free/But you're still fucking peasants as far as I can see," from Working Class Hero by John Lennon. I love an angry Beatle.
7)Everyone has a go to item whether its a pair of shoes, a purse or maybe just a ring, that makes them feel fabulous.. whats yours?
Red lipstick, especially MAC's Lasting Lust.
8)If all of your clothes were burning which item would you save first?
My vintage Ossie Clark snakeskin jacket. Ossie gave it to an employee in lieu of the money he owed her and I got it directly from her.
9) I stop women on the street and admire what jewelry they are wearing?
If I was to see you on any random day what items would you be rocking?

Lately, I'm wearing my Gravity Engagement Ring, my Gravity Ring in platinum, my Cleves Ring, my Borgia Poison Ring, my Acorn Necklace and my little Squirrel Necklace. That's on a casual day, of course.
10)If you could go to any city in the world to shop,where would you go and why?
Milan, to hunt Prada handbags in their native habitat.
11)What fashion extraordinaire do you admire and what fashion self proclaimed extraordinaire makes you go WTH?
I like Gwen Stefani for having a distinct personal look that has evolved organically. The fact that she's a red-lipstick fan helps her get my vote. I say WTF to all the fashion police. I hate self-proclaimed experts who sit on their asses and write about Rachel Weisz's dark lipstick at the Costume Institute gala as if it were a federal offense. I look at these so-called experts and think, "Who are these trolls to judge anyone else?"
12)Where do you go to find inspiration besides www. alixrose.com?
Is there anything that compares to alixrose.com? I think not. But I do like to check out medieval artifacts at museums.
13)Thank you for Taking the time to do this! You have a way with words, no doubt. Any last words to leave your readers with?
Wear what you want, bitches!




pic source
wendybrandes
google