I never really saw myself as a plaid
LONG
skirt girl, it maybe because I went to Catholic Elementary School and now everytime I see a plaid skirt my mind flashes back to then. Not only that I never wear long skirts, I own one long dress...but that's it. My reasons: 1) Its hard to find long skirts or dresses that are the right length (am a petite lady) and am too lazy to take them to be altered. - 2) I think the more leg you show, in good taste of course, the taller you seem.
But I really couldn't help myself when it came to this skirt. I just instantly fell for this Aimee G. creation, the pocket, the tulle, the askwed hemline.. it's more than just a skirt, it's an attitude.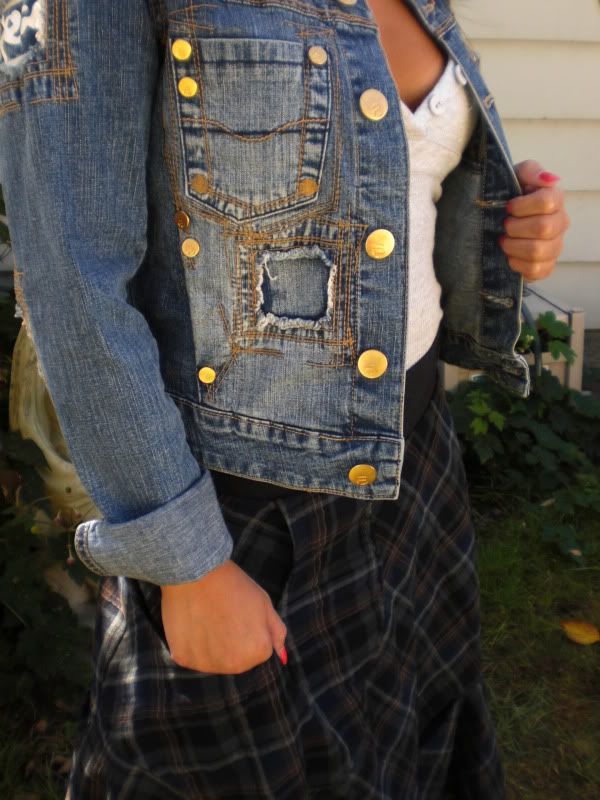 I paired it with a gray low cut tank, the skirt itself already has so much material that the tank takes it from a heavy look to a fun flirty one. The jean jacket has been in my closet for over three years and I can count on one hand how many times I've worn it. Just something inside me couldnt let go of it and am glad I didn't.
The blue jean of the jacket picks the blue up out of the skirt. The gold detail in the buttons brings some color to the whole look.
Moral to the story: You may know and love your box, but sometimes listen to your little fashion voice and take chances. I don't wear long skirts, but this one in its uniqueness called out to me and am glad it did.