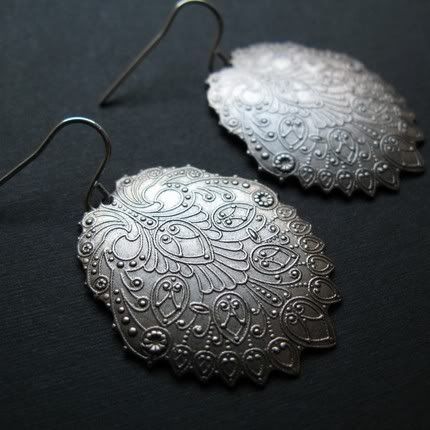 My jewelry box has been begging for some new pieces, am sure your has too. Usually my eye goes straight for the big pieces, but sometimes the simple delicate piece hyponotizes me. Of course I just think of different ways to double them up.
I heard about this designer through a good friend of mine. Kenton
Beads
(www.kentonbeadworks.com)is based out of Portland and when I first came across her site, it was like a breath of fresh air. I have been switching out my neck jewelry between the
Belmont
and the
Boyfriend
necklace. They beautifully stand out on their own, but then they work with other pieces in my box as well.
They are beautifully hand made by one woman, who finds them time to make these and walk her dog, Johnny Cash. Amazing I know. The best thing about this line is really that they are just as awesome in person and the price wont make you feel guilty for spending a little money on yourself. In fact you might want to buy more than one. ;)
This next designer, Anna of
AK Vintage
creates her jewelry pieces out of vintage items she finds. What I find unique about this Portland designer is that her pieces are catered to both men and women, but really the pieces could be for either. A lightning rod, a feather, some little cubes and your neck has never looked cooler.
Which piece stands out to you?