Lazy Sundays are always the best, especially if you can shake off the guilt. So,I wasn't going to post today, but then I found some beautiful images and it made me curious, so I decided to put them up along with a question. Do you have a special place, like bench at a park, a secluded waterfall or somewhere that you just go to, to find peace?
Does this sound like a weird thing to ask? Lately I have been having a hard time sleeping, so I've been watching a lot of movies and the main character always seems to have a place, a hidden place that they go to in order to clear their thoughts.
In 500 days of Summer, he has that park bench that he sits at to look at the skyline, in The Saint she sits in that small gallery to speak to the statue. In other movies they use rooftops, boat docks, under construction buildings and the list does go on.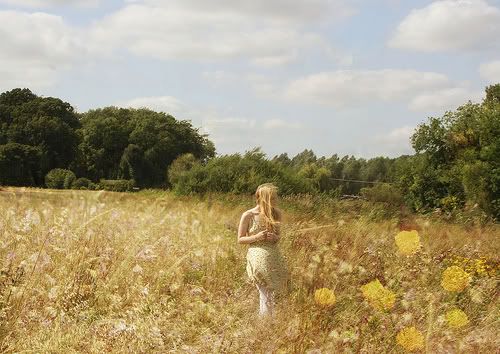 Maybe its just a note in a memo that all screenplay writers got, but if it's not, where do you go to get away from it all?


I don't have any fields like this around me, but in the summer I would go to the beach.. no wifi, just music and the sun.

I think am going to start looking in the city for a spot that I can go to just get away from it all or just to read a book. Any suggestions?

source:weheartit