Just in case you're forgetting what I look like I thought I would post an outfit. What I learned from this outfit is to never say never. This is the only turtle neck sweater in my closet and the only reason I kept it is because my grandma gave it to me. Surprisingly enough I don't feel like am about to die when I wear it, which is often the case with turtlenecks. It's actually really warm, but with the short sleeves it's a perfect fit under my blazer.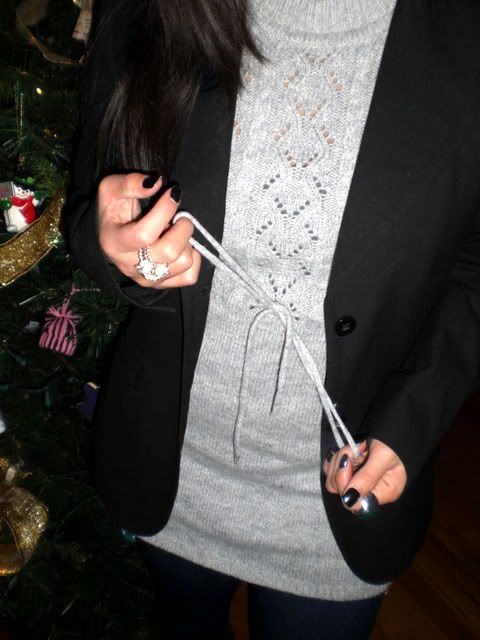 In the cold weather you would think I would want a heavy blazer, but I have a long coat that is form fitting so the tank top, the sweater and the blazer all fit nicely under it. I really don't want to look like a caramel apple when I head out, you know round layered top and skinny legginged legs. Not really a pretty look! :)

Speaking of leggings, I was estatic when I found a pair that resembled jeggings, but werent. I haven't had any jean leggings luck. When you have some curves and petite legs you're just out of luck or you have to hem them and I rarely do that. I need to learn how to sew, but that's a different post.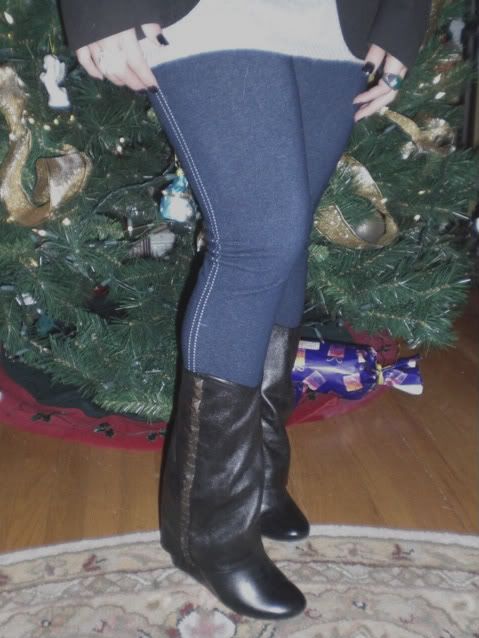 Also I finally have a picture of me wearing my WHERE boots, thank you again to Laura for sending them to me. I have been wearing the heck out of them, as promised. I just finally got around to taking a picture. I get compliments on them and a lot of people want to touch them because they look so different. Thank goodness I don't mind!
blazer: Express /sweater: Michael Kors/leggings:Marshalls/boots:Where