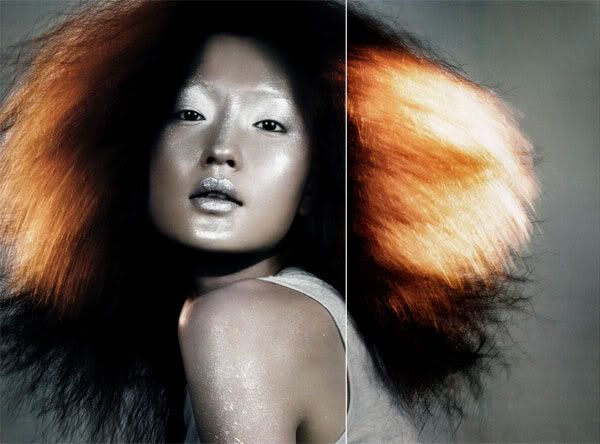 Last post it was all about the back, but now its silver silver silver bells. I may have been brainwashed by the song, but I don't mind because I've always crushed on silver. It maybe because I love Glitter, not the movie.. the make up and around Christmas it reminds me of tinsle.
I don't like to put tinsle on my tree, but I am still pulled in with a magnetic charge everytime I see it. So if I could be a modern day walking piece of tinsle.. sign me up!!!!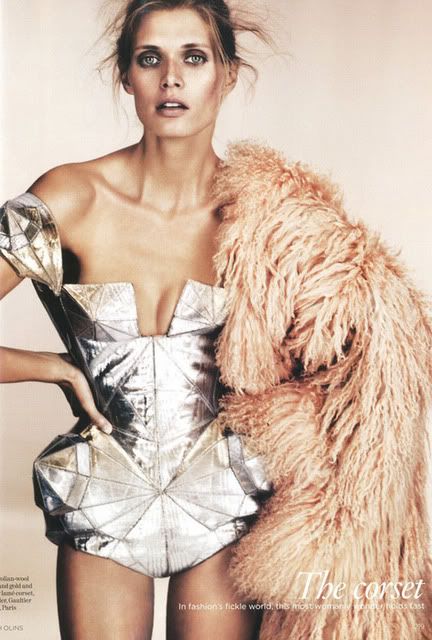 A silver corset, how hot is that!! It is going to be 2010 after all and a sci-fi look could be in order. I am not a fan of the no pants trend, but if you're going to push the enevlope, New Years is the time to do it. You'll have to wait till Halloween next year and by then the no pants trend should be over and the new trend could be to wear pants on your head, so don't miss your chance...if you're into that.
Silver lips, messy and you maybe asked over and over if you made out with a disco ball, but I bet it would look great in pictures!
Until I saw this picture I was thinking mini dress for New Years, but I love how sexy this is without showing too much. Sometimes all it takes a little shoulder. Also it is "Brrrrrrr" outside and my NYE plans have me jumping from place to place so my legs might like a little cover.
Also any thoughts on the one long earring? Tooo 80's?


Silver lips again, but its the eyeshadow that's rocking my world. I have been trying out different eyeshadows all week, but there's no silver in my arsenal. I didn't know what I was missing?
I will be doing some more post focusing on ideas for what to wear on New Years, I hope this is giving you some ideas!
pic source: weheartit,fashiongonerogue,cynatrendland