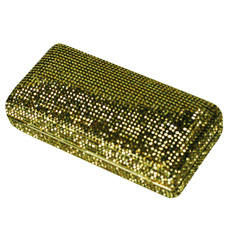 I may not have the dress or the shoes YET, but that doesnt mean I can't start looking at clutches. It only has to be big enough for ID, a few lipsticks, a mirror, a phone and some money, so these beautiful babies are ideal. I know some girls think that a black clutch will go with everything and will suffice just fine, but I disagree. Why shun an opportunity to pop in some color or glitz?
These are just some inspirational images because these beauties come with a heavy price tag. Kotour is completely worth every penny they ask, the mosica clutches are like art work in themselves. Sadly, I don't have that many pennies, but I can still window shop and get a little inspiration. They've definitely reminded me to keep my eyes open for a fashionable clutch, sometimes its not just all about the shoes and dress.
Kotur really thinks of every girl, the sleek clutch for the modern girl, the swarvorski clutch for the party girl, the mosiac for the trendy girl and the last two would be for the girl who likes to be a little different, unexpected. Of course one girl could feel like any one of these girls on any given day!
Will you be carrying a clutch on New Years Eve?
I always worry about setting it down, but unfortunately with party dresses they never have pockets!