Are you stuck in a Routine? Are you like me and have just royally forgotten about the wonderful world of in living colors such as Purple, Turquoise and Fuchsia, when it comes to your eyelids. It's not on purpose and it's not that am not adventurous its just that am stuck in that darn routine. Oh that's about to change.
Brown and Blue have been my eyelid drug of choice and I didn't even know I was doing it. I guess the first step is admitting it. So am admitting it. I go for brown or blue every single morning. I know its going work, I know how apply it just right and I know no one will give it a "What was she thinking?"look.
There lies the problem. Am a fashion blogger, am supposed to be a litle more out of the box. I believe that was in the fashion blogger all office memo. Looking through my computer inspiration file folders, I ran into picture after picture of amazing eye make up and then preceeded to give myself a swift kick in the tush.
The root of the problem is that am a lipstick girl and we all know the rule. These winter days have made my lipstick ways not as prevelant as before. I still haven't found a great non-smudging lipstick, so my sweaters, some shirt collars and a few coats have met their demise. I like to hide my mouth when I go outside. You would think I would have learned by now. So I've been wearing lightly tinted gloss and my eyes are begging for their turn in the spotlight.
This Urban Decay Deluxe Shadow Box is actually in my make-up case, but sadly the top two rows have been severly neglected. I am excited to finally play with them.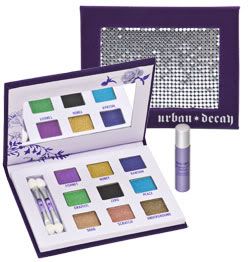 The Eyeshadow Ammo Box and then there's the eco-friendly, yes eco-friendly sustainable eye shadow box that are going to find a place on my ever growing wish list.
Don't expect to see me walking down the street with eyes like CoCo, am not a make up artist and I will leave that up to the professionals. It's just instead of applying my ever trusting brown, I will blend in a little green. One step at a time right?
pic source: fashiongonerogue,urbandecay,weheartit,tfs