It's funny how one song, smell or movie can open your eyes. I watched the comedy "
My Blue Heaven
" this weekend and it seemed like everywhere I looked the color blue seemed to pop out and bite me. I decided to put together a post full of inspiration that shows how different shades of blue can go from, celebrity to street style and into the Spring 2010. It's no wonder that I wrote on my Christmas Wish List: Royal Blue.
I would hardly recommend wearing one color head to toe, unless you're wearing a gown like Hayek below, but
Lezark
pulls off a stylish sophistication that cant be denied. Even though they are in two completely different settings, blue only enhances both ladies.
How can blue be a staple color and still offer the unexpected? Good question. The blue tights above illustrates how royal blue can be unexpected, it jumps off the page and practically screams look at me. Yet, it still finds a way to pull the red shoes and the patchwork coat together in a way that really can't be explained. It just works.
When I saw this picture, I looked at the 20 coats I have and instantly realized that none of them were blue... I didn't count jean jackets. This realization threw me for a loop. Why haven't I ever gravitated or felt compelled to buy a blue coat? This image perfectly shows that a blue coat is not exactly a risky purchase. This picture could have easily been taken yesterday or 5 years ago and in either situation she would and is considered stylish.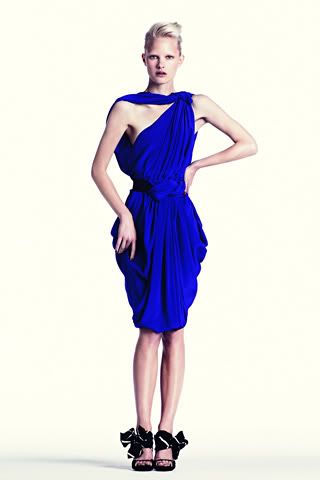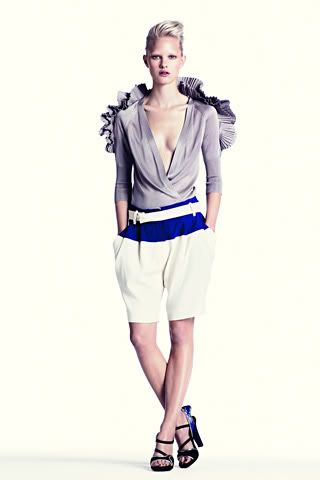 Sometimes designers or
trend forecasters
declare that a certain color is the color of the season. I would consider myself a little ridiculous if I started to declare that blue would be the color of Spring 2010. It was present this fall, has been covering legs and arms this winter and will be just as powerful this Spring as one can see from the
Vionnet
Spring 2010 Collection.
I would like to thank Steve Martin, Rick Moranis and Joan Cusack for starring in the comedy "
My Blue Heaven
" back in 1990. It's hilarious and inspired me to write a post about the color blue, who says you can't find inspiration in the most unlikely of places?
pics:Stockholmstreetstyle, google images, weardrobe_songoftheexile,turnedoutbymaya