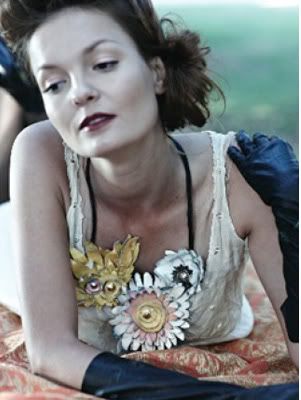 KA/POW/WOW and LAS Jewelry bring an elegance to recycled fashion. In the spirit of Eco Monday, today am highlighting two designers that work with items that 1) are left overs from designers table or 2) are made up from pieces of jewelry that have been sitting in your jewelry box. These collections will make you look at your cast-offs with new eyes!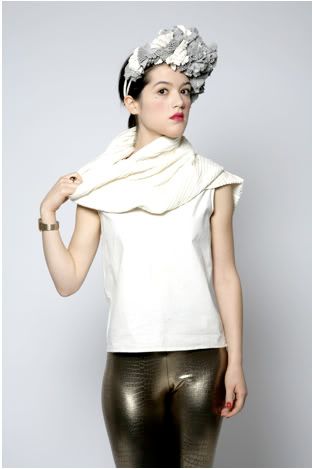 Mia is the design brain behind
KA/POW/WOW
.. the inspired collection models itself after coral, fruit and structured Victorian ruffled collars. As a girl who loves necklaces, but gets a little claustrophobic with turtle necks, this is a fashionable medium. In most of these pictures the neck piece is paired with plain t-shirts and dresses. It makes a staple item become a "look at me" piece and as a plus it's also environmentally friendly.
How many jewelry pieces are just sitting in your jewelry box that you just don't wear anymore? I know I have more than I can count and I can't just make myself part with them. The husband and wife team, Lisa and Dan Soltis of
LAS Jewelry
understands this plight. They work with your neglected pieces and rebirths them in a beautiful way.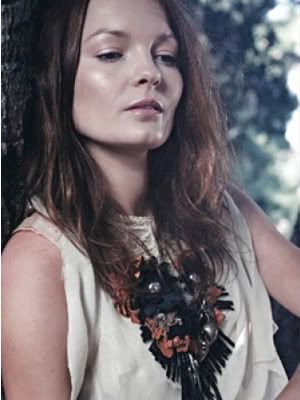 I personally love designers that can take scraps, cast offs or broken items that are usually left behind and make them into something beautiful in a style all their own.
These undoubtedly add a little Eco-Glamour!
google connect friend: facebook friends
Hope you all had a good weekend!
source: trendland, refinery29