I've been a weather girl since I was 14. I used to watch the weather channel so I could plan my outfits for school. I still check the week ahead just to get an idea of just how cold it's going to be and if I will have to wear my thick tights with my dress or maybe none at all.

One thing I know for sure is that I can't go by what current fashion editorials or even what my Seattle JCrew store front window is trying to sell/show me. Sometimes I actually wonder if they know that it's cold here to practically May!

That's why I'm sharing 4 of my go to inspirational images that will be taking me from spring into summer.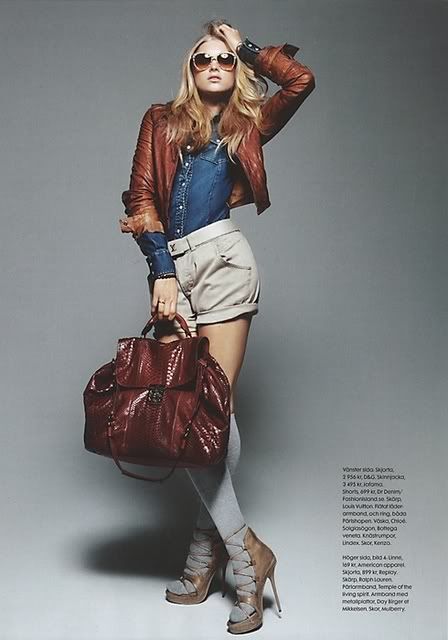 It's no secret that am a big fan of heels and socks as stated and debated in a
earlier post
. But what stood out to me in this fashion shot are the shorts. It's a shame that I have a drawer full that just sit there from winter until the first break of summer. I know it may seem like it's too cold to wear shorts, but with the knee high socks it's just a variation of a dress with tights.
This hands down is one of my favorite looks and a reason why I go to the gym, so I can tuck in that tank, but what I love most are the skinny jeans with the platform big strap shoes. I dream of a closet full of platform sandals on a nightly basis. I already have a few, but since they are open toed I hardly ever reach for them. This spring they are going to be out in force! Definitely with the skinny jeans! I am not a fan of them with socks because the seam line ....hmmm are there seamless socks or maybe that could be my new business.

Chains are the new studs this season, but it looks like they might also be the new belt. I love this look because this makes it possible for me to buy those summery dresses inundating my local boutiques and actually wearing them.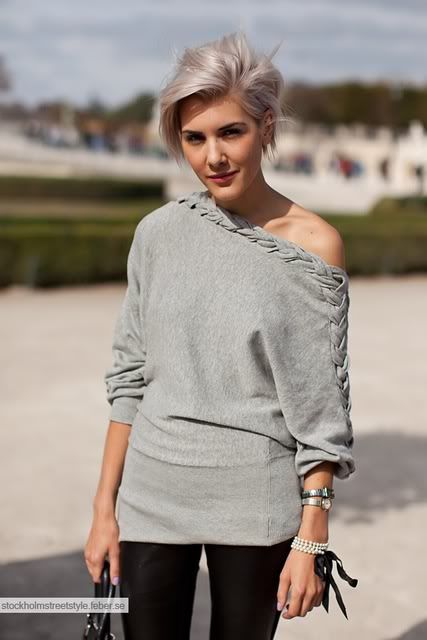 The one shoulder look is sexy without having to show a lot. Who doesn't love a peek-a-boo shoulder. I know it's a flashback to the 80's but this has definitely taken on a modern twist that I know will be a spring trend.
These are just some of the looks that will be keeping my style fresh and rolling into Summer.
Also my days as a weather girl are far from over!!!

pic source: stockholm, olsensanonymous, fashiongonerogue