Themed parties are always more fun.. at any age. I am going out of town this weekend for my godfathers birthday and western wear will be in full effect. So who says that you have to be an old school cowgirl. Heck no! Am representing the cowgirl of the NOW. Who follows fashion magazines and awesome fashion blogs while she watches Kell On Earth! I didn't buy anything for it and so this is about as last minute as it gets. I list some must have items that you will most likely have in your closet...the picture of Abbey Lee is only for inspiration, I can't exactly wear something like that in public...am not Rhianna or Ke$ha !

The number one must have item is a cowboy hat. This is easier to find then you think and it's the one thing that can turn anything you're wearing western. Also look how much fun Aggy is having, am sure its because of the hat.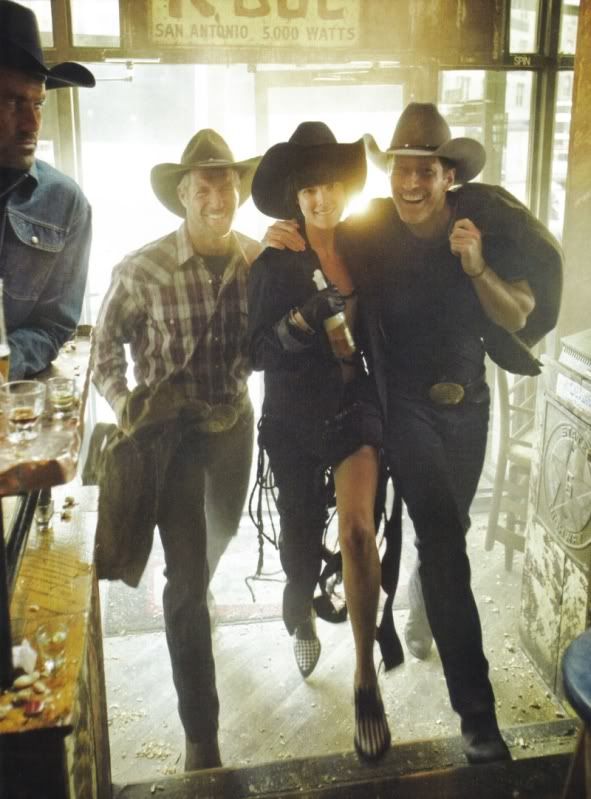 The second must have element: the jeans, top and bottoms.. together. Lucky for you this is in style right now. Also you probably accumulated a few of each over the years. Your boyfriend jeans from last season will work perfectly and the more worn in the better. Even some fray here and a whole there will propel you into cowgirl mode.


The third item are of course the boots. I don't have these and I won't be buying any. Why? I would probably only wear them for the party and that's not enough justification for me to buy a new pair.So thankfully I have these sitting in my closet, courtesy of
Where
. These will bring a little bit of edge to the cowgirl look. Who doesn't love edge?
If you want to add a J.Crew kerchief or a leather jacket I say go for it, but the items above will be just cowgirl enough that you will probably start singing country songs and wishing for a horse.

I hope you all have a great weekend! I know you won't have as much as me, unless you're doing the two step and wearing a cowboy hat!