It's that season again, where it seems that every single fashion article has the words "
summer
" and "
skinny
" in it's title. I look forward to the sun every winter, with the dream of little dresses and bathing suits, but that joy is always tainted by the articles and fashion editorials reminding me that I am no model.
In the year 2010 we are still debating that models are too skinny and not the real woman, but instead of embracing healthier looks, note I didn't say plus sized, healthy ones- would suffice at this point. The industry is still being saturated with skinny minis.


Is it sad that I am happy that these two images are close to the healthy look I am talking about because look ma no bones!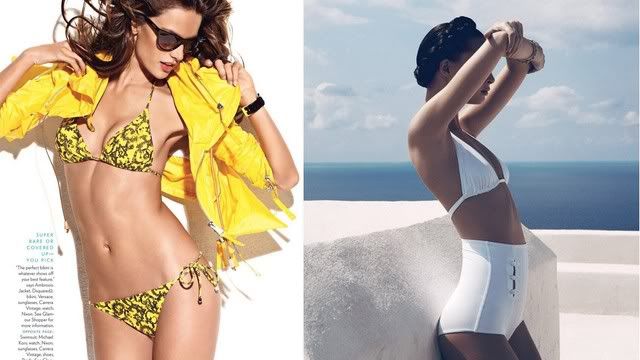 What pushed me to do this little rant, I was looking through my favorite magazines and I realized that once again I felt guilty for not working out harder, for enjoying my Coca Cola and piece of chocolate.I am not lazy to say the least, I try to work out 3 times a week, I play on a softball team, walk everywhere and eat healthy meals. Yet, thanks to these articles and images I feel like I should have done more.
Just to let you know that I am not an impressionable teenager, I know that these are put through all kinds of photo magic... yet they still have an effect on me.
So the magazines that I love so much are calling me fat! Maybe last summer I let my insecurities stop me from doing or wearing something here and there. What can I say, my 4'11 self couldn't help but compare my body to a 5'11 model.
I know silly right, now that I write that out, I see it. Well not this year!