It may be because of the Tom Hanks marathon on television last weekend that had me sitting through 4 hours of Forest Gump or because of this UK Vogue editorial.... but am pretty sure its because my favorite thing to do on Sundays is dream a little dream. Travel is one my passions and when I daydream of a destination I think what will I wear?
I know Forest Gump isn't real and not any sane person really wants to run forever. But when he puts on his tennis shoes and decides to run across the country a billion times over a little part of me was jealous. I would love to just pick up and go sometimes, pick a place on the map and just go.
Then I saw this UK Vogue fashion spread and my wanderer heart strings were pulled. I might not be able to pack a bag and take off to Australia, that's where I really want to travel next. I've always wanted to go. So even though I can't pack up a suitcase, hop on a plane to enjoy the beaches and sun of such a far away land, I can still dream about it.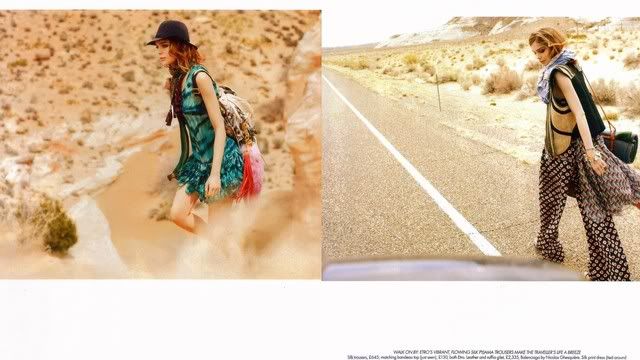 I may not wear wedges while walking for miles on end, but mixing prints and the layering trend is the look I am adopting for summer travel. In fact I may just dress like this on a Wednesday so even though I am not going anywhere I can just look like I am. It's the effortless carefree personality it portrays that has me loving this look.