Clothes
can make you happy! That's what happened to me on Saturday, when the realization hit that
Yes
! I could wear shorts and
not
be cold. Of course I had to search high and low because I haven't worn a pair in months. But it was worth it, when I stepped outside and felt the sun against my legs. In my search for shorts I noticed that I am
lacking
in styles.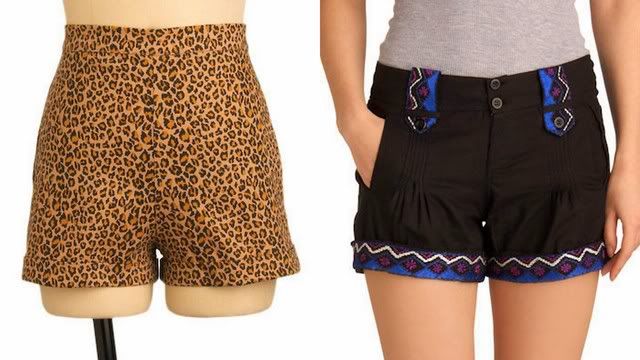 I have a few dark and light colored jean shorts, but like any other pieces of clothing you should have some fun styles to mix it up. That's why I loved this editorial, the shorts are fun, fresh and oh so summer. The picks I have chosen for this post are fun and maybe can't go with everything but sometimes that's OK.
You shouldn't be surprised to see leopard print shorts, this is me after all. The mixed print that almost looks hippy-ish doesn't scare me off either. They have character and clothes that have personality is a must.
This editorial from Vogue UK does a wonderful job illustrating how versatile shorts can be. When I was younger I used to hate to wear shorts because my legs were more athletic than model skinny, but now I love them because with some wedge heels and mid length shorts my legs look longer. Who doesn't love that?
I am not a short shorts girl and it's exciting that you don't have to be. These tie dye shorts are like a second skin and would be fun under a tunic like dress and these twill printed shorts just want to be seen.
I know some shorts are claiming that they are work appropriate, but I would personally save these for the weekend. They are just the kind of pieces that call scream weekend, take a break from work clothes and mix it up with these!