This summer the hottest summer accessory is not something you wear, its something that wears you. The classic bicycle has been around forever, but this year it has had a style revival. Here are some stylish tips for a city girl riding a bike.
Note: no tennis shoes required.
There will be no helmet hair worries, the only kind of hat you need is something that deflects the sun, but makes you look good doing it.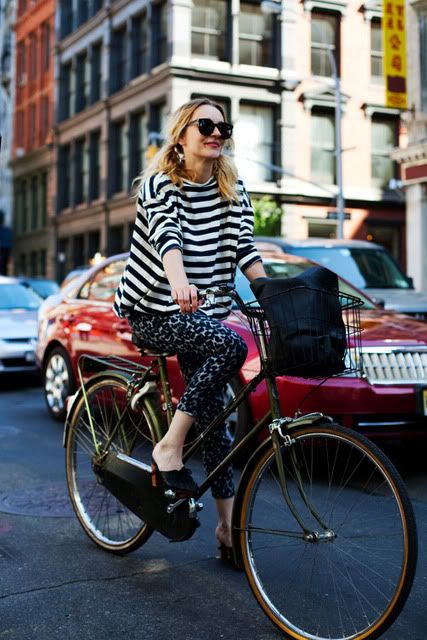 Just because you ride a bike with a basket doesn't mean that you have to be all flowers and puppies. Show your edgy side like the rider above does with her blue leopard print leggings.
It may seem that wearing a skirt while riding a bike could be a little risky. Take a risk or just keep in mind that you can pull up the excess material, so that you won't be in danger of getting caught in your wheels.
As promised there were no tennis shoes required for any of these riders. So don't treat your sandals like precious delicate pieces that can't take the work out. Break them out and have a little fun.
I don't own a bike, in fact I haven't ridden one in over 10years, but these photos are so inspirational that I've never wanted a bike more.
Are you a stylish bike rider, any tips?



pic source:http://pinterest.com/alixrose/street-style/