Unfortunately
Seattle
has been a little under the weather, as in.. if I didn't know any better I would swear on my shoes that it was January. But I will give Seattle one thing, the flowers at
Pike Place Market
have never been more beautiful. The colors are vibrant and the flowers practically beg you to take them home. In effort to remind myself that Spring has sprung and Summer will be here any minute I am surrounding myself with flowers. So untie that scarf from your purse and in it's place put a bouquet of color.
The classic straw bag would not be complete without a bouquet of flowers. So even though you're tempted to sport your black leather bag..leave it at home.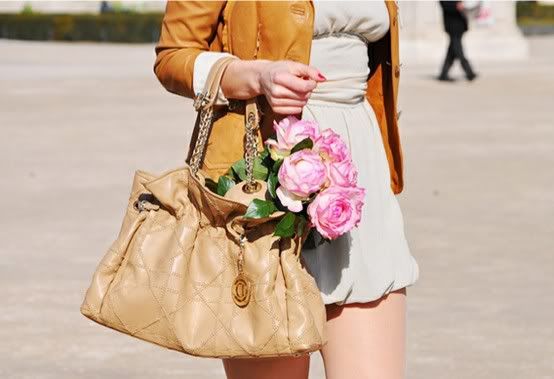 The all neutral palette of her outfit is enhanced by the soft pink roses peeking out of her bag.

It's amazing how just looking at these pictures makes me smile. So if you want to smile all day long pick up a bouquet and I guarantee you will have at least one reason to smile today.
pic source: stockholmstreetstyle, google, weheartit