First of all, I am back to my regularly scheduled blogging program. The Holidays were good to me, so it was hard to let go. I may have spent a lot of my holiday break in pajamas, but it was fun to play dress up for family parties. Of course, there weren't enough parties to try out all of the looks I thought would be fun.
For example, it's fact that florals are flirty for the summer, but they're just as pretty and hopeful in the winter.
What you don't think florarls are anything but a summer look. I beg to differ. Here are 4 ways that you bring a little bit of that flirty look into a blue winter.
Iambornlippy
That little summer dress can be winterfied with a combination of accessories. There's no need to buy more, just look in your closet. Play around with thick tights or patterned tights, booties or knee high boots, a thin belt and maybe a chunky scarf. The fun in creating the outfit will make it hard not to wear a variation of this everyday.
Floral pants, I need to get a pair of these. Especially, since you can wear them every season stylishly.
NYCCurbappeal
It's really all about the pants, so pair your favorite collared blouse with an oversized sweater to complete the look.
If the dress and the pants are little too much for you, you can add it more subtlety to your look. Here are a few examples of how a floral top, a scarf and even a coat can brighten up a winter day.
FashionVibe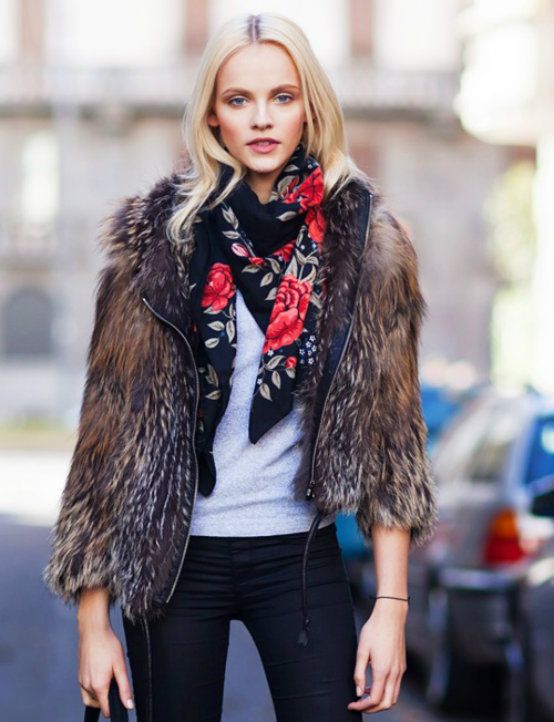 You may notice that the outfits above brighten the black/brown winter uniform are transformed into a bright breath of fresh air look.
If you're craving for something floral and find your closet lacking, here are few things I found that can help you.
Floral dress by
Gryphon
Floral jacket by
Gentle Fawn
Floral pants by
Joe Jeans
photos without captions were found on tumblr